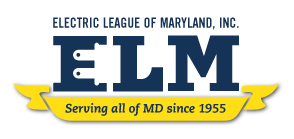 As I reflected on some of the advantages of being a member of the Electric League of Maryland, it made me realize how committed, industrious, innovative, professional, and progressive are those who make up our trade.
As individuals, we bring special talents that have established an organization of the electrical industry that promotes public safety, protects special interests, and provides for everyone's objectives.  Whether you represent individual electrical contractors, electrical contractor's associations, apprentice training programs, serving utilities, manufacturers, engineers, inspectors, administrative officials, communication and security, lighting associates, legislative officials…you are given an opportunity to serve on the Board of Directors and provide a voice in your particular work category.
New products, new developments, new concepts and new and legislative changes for the industry are constantly being monitored so that critical information can be provided that will improve understanding and cooperation among all segments of our industry.
The diverse membership of our Board of Directors assures the main objective of enhancing the professional standing and increased knowledge of all our tradespeople.  We ensure a code of ethics that protects the life and property of the public.
Additionally, a wealth of information is shared with members through our News and Notes.   Consider these various educational opportunities:  code and code change courses; specialized subjects such as solar, alternative power methods, arc flash protection, energy and low voltage signaling systems, generators, swimming pools, etc. – classes are offered at reduced prices, with special discount when you are a member of the League.
Think about the positive effect the League has had on legislative action across the State – the League has helped establish the first State-wide Master's License, the first State Electrical Board, and the first effort at continuing education.  There are proposals for establishing State-wide apprentices and State-wide journeypersons that will once again benefit all industry members as they train to become more professional in their careers.
This past legislative season the League joined in the efforts to defeat Senate Bill 1368.  The Bill would have abolished all local Electrical Boards, made all electrical work installed be under the control of a Master Electrician, and disrupted our industry.  We supported St. Mary's County effort to begin the process to make their Electrical Administrative Board come under local control.  The Electric League drew attention to changes to the way DLLR would be funded and is making effort to ensure electrical licensing and examination fees are not increased.  Also, close attention was given to a Bill to make a State police permit mandatory statewide.  We want to make sure local permits are maintained and reasonable fees charged so the local jurisdictions will have the authority to still protect the public.
Discussions are taking place to expand and develop different concepts in the League's educational opportunities for the future.  A new category of membership may be developed (of course, at a reasonable increase of cost) that will help reduce the cost of continuing education for Master's and journeypersons and save valuable time.  There will be specially designed courses that will include:  code issues, business skills and requirements, and special installation techniques that will incorporate technological advances (on-line training will be counted).
What a benefit to belong to such an organization at a reasonable cost ($35 annually).  If you are not a member, you should be!
Sincerely,
Gilbert Thompson
Legislative Committee Chairperson, Electric League of Maryland